Neshaminy High School
Class Of 1963
In Their Own Words
A few of our classmates were kind enough to tell us what they've been doing over the past 45 years. Here's what they had to say, in their own words:
Ronald Batzdorff (4/20/08)
I live in Los Angeles and I am still working as a still photographer on Hollywood feature films. My wife Janice is a librarian. I am currently on location, in Boston, shooting a 12 week Matthew McConaughey/Jennifer Garner film, "Ghost of Girlfriends Past." I actually got my start shooting photos at Neshaminy H.S. for the yearbook and school newspaper. I have a daughter, Heloise, two grandchildren and a 16 year old son, Aaron in his junior year of high school. My two brothers, Jon and Ben who graduated from Neshaminy after me, also live in California.
Studio City, CA 91604
Michael Bouman (1/17/2008)
My short bio is that I earned an MFA in voice and choral conducting at Penn State, had an 8-year career as a college professor in Oswego, NY, Durango, CO, and Santa Fe, NM, which included two semesters as a visiting professor at Johnson State College in Vermont. While in Vermont, I tutored in poetry writing with the poet, Hayden Carruth, who lived there and published a dozen or so pieces in the mid-1970's. I changed careers in 1977 and moved to Vermont to work in cultural outreach (museums, historical societies, libraries) with the Vermont Council on the Humanities. I was appointed Executive Director of the Missouri Humanities Council in 1996 and I am still in that position. My wife, Sandra, who I met at Penn State and married in 1976, is Director of Vocal Studies at Southern Illinois University-Edwardsville. I have two children by a first marriage. Jennifer is an employment lawyer in Portland, Oregon and Ben is in sales in Denver.
Note – since this writing, Michael's wife, Sandra, has passed away from cancer.
St. Louis, MO
Frank Emrick (5/8/2008)
I live in Livingston, Texas on a large lake, retired, healthy, and active. All my bills, accounts etc are registered there. I own a travel trailer that I keep in a park near Houston, Texas for when we visit occasionally. The only thing I have there is a DSL account, and somehow, through your superior sleuthing abilities you found me there. When they called me about a letter sent to the office, and they told me who from, they had a good laugh when my response was, "dang she's good".
Franklin R. Emrick
158 Rosebud DR
Livingston, TX 77351
Christopher Harris (6/26/2008)
I'm married (second marriage) with a son going into his senior year of high school. I have a much older son who is head of a company that manufacturer's industrial and medical blades and needles in VA. He and his wife have fraternal twin boys, age 7. Wonderful family far away.
I'm retired from the high tech business and now concentrate on art. My web-site is chrisharrisphoto.com. There you can see a variety of my work, where I have shown, and the galleries that represent me. It's been a long, circuitous route from NHS to here.
What else? I've come to love fly fishing, which is a pleasure and a torment, the latter because the rivers are so far away and the season so short in WA. My wife and I have been supporting a writing center that a friend began in Seattle, and I have been leading (of all things) a group that is reading Proust there. I'm looking forward to getting into some 19th Century American literature, which is what my graduate work concentrated on many years ago.
PO Box 858,
Medina, WA 98039
David Heenan (8/13/2008)
Let me give you a quick synopsis of my past 45 years so you have some good gossip to tell everyone. After NHS I attended four years at William & Mary College. Upon graduation I did some graduate work at PSU, where I caught up with Paul Stary, Jerry Dorland and Dean Olson among others. We had many good times together in those days. But, I was quickly drafted for a couple of years in the Army. I eventually finished up my masters at PSU in Computer Science. Tired of the cold and snow I headed west to California in 1971 and have basically been here ever since.
During '73 & '74 I travelled throughout the United States, Europe and Northern Africa doing my hippie thing. The highlight was meeting my future wife in Spain. Betty eventually met me again in California and we've been married ever since. We have one son who is about to graduate from UC Riverside.
After 30 years as an independent computer consultant in California selling my soul to the highest corporate bidder, I was semi-retired as a substitute teacher for a couple of years. However, with my son's acceptance at the UCR, I was obligated to work again full time; substitute teaching pays next to nothing out here. So I took a permanent position with Teradata Corporation, the world's dominant data warehouse supplier, with the idea of working five years to become fully vested (and my son graduating in those 5 years, which is still in doubt). One year until retirement, and so looking forward to it.
After Paul Stary and I were talking the other night where he ran down the list of addressee names, which triggered many foggy memories, I rummaged through the attic to find my 1963 Chieftain. Then I spent a couple of hours looking at all the pictures and reading the written lines. It was frightening to realize how much I have forgotten. But my curiosity has been aroused, and sometime soon I will be returning to search for those childhood memories. I certainly have a few stories to tell and would love to hear some others.
For your amusement, I've attached a recent picture of the three of us and one of me off playing in the mountains. I still love getting out into the wilderness, but I must admit age is limiting my activities. In case there is any doubt, I am the bald-headed guy.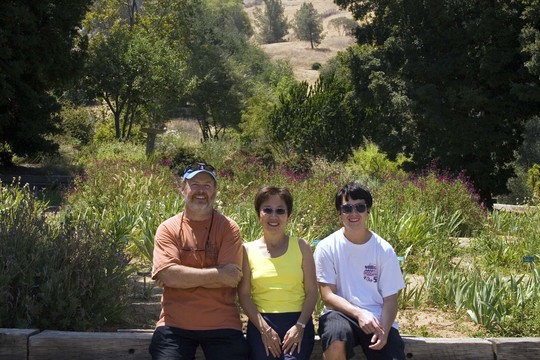 Georgia Hietsch Winward (4/4/2007)
I retired in 2006, but returned to work for medical insurance. I hope to retire
in about a year. A year ago a position opened up as a bus driver for the local school district. Now THAT was an experience. I stuck it out until the end of the school year. When the technical assistant job opened, I started that job for the current school year. I troubleshoot problems with computers, and fix them if I can. If not, I escalate the work order and if the equipment is under warranty, the manufacturer fixes them. I work at both the high school and the 6th grade campus. At the high school we have more than 2,400 pieces of equipment. At the 6th grade campus, we have about 400. Some days it's challenging, and some day's routine. It gives me a rush when I can help someone.
My husband Chuck and I have seven grandchildren, ranging in age from 7 to 21, four boys, three girls. Needless to say, they keep us very busy. I'm working as a Technical Assistant at the high school. Both Caitlin (16) and Matt (18) go there, so I see them from time to time either in a classroom or in the halls. They tell their classmates, "That's my Grand Mom, really!" We have a twelve year old (will be 12 this month) granddaughter, Jennifer. What an age! Three of the boys played football, and Caitlin is a trainer, so we've been to our share of football games. Josh, 20 is now in the Army. He is supposed to go to Iraq in November. We're praying that things change before then and that his orders change.
Magnolia, TX
greezygranny@sbsglobal.net
Paul Lord (1/16/2008)
Just thought I would reach out and say hi. Many years and now living in Milwaukee I still think of the old times at NHS and all the great people. I too am a single dad and have been for many years. Just became a grandfather for the first time in December to Ella.
I've been in sales most of my life and have traveled this great country coast to coast. Unfortunately I was downsized in November of this year. I guess they just put me out to pasture. I am not a member of Classmates, but if you care stay in touch, my email address is mgtslspro@sbcglobal.net.
I read of our reunion in September and will try to make it for the weekend. No promises, but I could be the mystery guest after 45 years.
As far as activities, I still stay in shape, 190 pounds, 6'2, and 34 waist….uh oh…just checked the mirror and my hair is white. Still playing sports in an old geezer's
softball league.
Loretta Hubbert Preno (1/28/2008)
Tom and I are still in Overland Park, Kansas (for some reason) and our three kids are grown. None of them are yet married. Kyadda is a first grade teacher and has a condo about 30 miles from here, but teaches only about 4 miles from our house. So we have her dog every day. Crosby is dropped off each morning and she picks him up after school each day. This way he's not by himself. Dede will thirty in two weeks and lives in Chicago. Currently he is coaching and teaching gymnastics, but is looking for a real job so he can actually afford to live in Chicago. Tayne is 25 and is in graduate school getting his masters and teaching certificate simultaneously. His undergrad degree is in English which clearly didn't open any great money doors. Tom has been retired for years and I am still the principal's secretary at one of the high schools. I'm counting the days (or actually years) until I can retire also. Probably the year I become fully eligible they will move the date again and I'll end up working until I'm 90.
Overland Park, Kansas
Frank Murray (8/9/2008)
Sandie and I are indeed in Florida. I did retire twice, moving to Fort Myers Beach in 1998. I am still working as a Speech Pathologist working with hospital homebound children. We have six children and still have three or four at home at any one time. Don't give up the big house! We are enjoying life, and remain busy. Sandie and I are also working at starting a Christian school on the "Beach". Please give my best to ALL!
Scott L. Parker (4/8/2008)
I have gone to college and grad school in Virginia and having lived in DC since 1971, I totally lost touch with nearly all of my high school classmates. The only exception is Rich Andrews, currently residing in Houston, TX.
As far as what I am doing - I have attached my one-page, business bio as a quick summary of career and current work status. Photo is about sixteen years old, so the hair is definitely grayer, but still attached. In short, I am keeping busy and still enjoying what I am doing. Fortunately, I am also getting paid for it.
Bethesda, MD
Sandra Marie Scott Chorba (6/24/2008)
My husband, Luther, and I sold our house in Levittown to our daughter, Ann and her husband Mike, five years ago expecting that we would soon retire. Unfortunately, due to financial reasons as well as medical coverage, it appears we will be working for a few more years!! We do, however spend week days/nights with Ann and Mike at our old home in Levittown.
When we are not in Levittown, we're in the house, to which we'll eventually retire, in Blakeslee, PA, almost every weekend. I work for Tetra Tech EC, Inc.
Levittown, PA 19056
Janet Smith Hough (3/28/2008)
My husband Wally and I have two daughters. One was married last December
and is a minister in Connecticut. The other daughter is in Pittsburgh and works
for the Aveda Corporation. I am loving retirement after 36 years of teaching
elementary school. My husband is still working for Merrill Lynch.
I'm sorry that I can't be there for the reunion as I will be out of the country on an
African Safari.
Preso, PA 15142
Paul Stary (4/3/2008)
Went to Penn State after NHS. Spent the summer of '66 in California with Dean Olson, where I met my future bride Jane. Married her 3 months later, and then spent another year at Penn State where I opened the first car stereo installation shop in town. Left for Cali in May '68 and have remained here ever since.
Founded AudioMobile in 1975, a high-end car audio manufacturing company. Sorry to report that we started the trend of "in your face" high-powered car stereo that offends everyone today. Started a home theater design & installation company in 1985 that son Steve has taken over. I currently own and operate a company that makes an exotic racing simulator called VirtualGT (see www.virtual-gt.com) and work harder now that I ever did.
Have two sons, Steve & John. Live in Costa Mesa, CA in a family compound, a 5-unit condo project we bought and remodeled. Added doors between units. Oldest Son Steve, wife Gina and two grandkids, nearly in junior high school, live here along with Jane's mom and my mom until she passed away in 2001. We love this lifestyle but it's not for everyone! Get to see my grandkids every day and watch them grow up. Steve and I are on the same path and share our lives and families on a daily basis.
On the flip side, son John is a hip-hop record producer nicknamed "Fingazz"! Can you believe that? He's married to an artist and has no kids. He's paid his dues for 15 years and is finally ready to "break out". Most notable efforts have been Little Rob (biggest hit, "Hot Summer Nights") and of all things, "Lean Like a Cholo" which recently went Gold (see YouTube https://www.youtube.com/watch?v=Cqsrq34qDyk). John (aka "Fingazz") appears briefly at 3:16 into this video.
Working too hard and looking forward to slowing down soon. Still driving too fast. Health is good, having fun (most of the time), and have few regrets.
Best wishes to you and all of the class of '63.
Paul Stary
Nancy L. Stevenson (7/31/2008)
Single
Birthday: May 10, 1945
Occupation: Casino VIP Host
Mother of two sons – Bill 38 – Single - CBS Radio
Christopher 35 – Single – Finance/Day Trader
Interests: International travel – Gourmet cooking – Dancing - Theatre
Canadian and Deep Sea Fishing – Studies of lost civilizations
Big fan of the Boston Bruins
Bloomington, MN 55437
MICHAEL SOEGIJONO-SUMARIJANTO (12/12/07)
Yes, I was at NHS for the 1962-63 senior years as an exchange student from Indonesia organized by the American Field Service. There were two of us, another exchange student coming from Chile. I was in the soccer (not as a core team member) just an extracurricular activity I took.
I returned to Indonesia only for a few months before I went to Sydney, Australia in 1963 to study architecture at the University of New South Wales and continued to Sydney University for my post graduate study. The economics and political conditions in Indonesia at the time was not conducive for study, so it was quite a blessing for me when I won another scholarship to study to Australia. I am now residing in Jakarta Indonesia with four children (3 girls and 1 boy) who gave us two lovely granddaughters (12 & 10).
I have fond memories of my stay at NHS, at the time residing in Levittown. I have many friends I met which have always been close to my memories. I would be very interested to be able to locate my classmates at the Advanced Algebra class, one of them is Michael Sussman and Larry ? I do not know if it would be possible or if they would remember me anymore?
I traveled a lot and have passed through the USA attending conferences and some business meetings.
Once again thank you for your greetings
Michael Sumarijanto-Soegijon
msmuria@rad.net.id
Charles H. Varney (6/22/2008)
I am presently living in Canyon Lake, TX with my wife of 10 years, Wanda. I am a
Merchant Marine, Read Tug Boat Captain and run between Jacksonville, FL and
San Juan, P.R. where I get to visit my twenty-six year old daughter who just
graduated with her master's in education. She is taking a little time off and is
working as a hostess on a catamaran style sail boat hosting hotel guests from the
San Juan area. I will be retiring in December and plan to travel fifth wheel style
when time permits.
I have not been in contact with any member's of our class
and would like to contact Robert Melton. If you have any information on him and
his wife Sherill Moore I would appreciate receiving it.
Canyon Lake, TX 78133
Cvarney2000@yahoo.com
Karen Wible Fickes (4/6/2008)
Update--I married my high school sweetheart, Bill Fickes. Actually we met and started dating in junior high school before I moved from Altoona to Levittown. Bill graduated from Pittsburgh Institute of Aeronautics in 1963 and started working for Sikorsky Aircraft in Stratford, CT.

Bill and I married in 1964. I was a stay at home mom while we raised our son and daughter. I was then a Librarian's Assistant for 15 years. We have three granddaughters and are blessed to have all living nearby. We now have plenty of time to enjoy them as Bill retired from Sikorsky as Lead man in the flight hangar after 43 years of service.

I don't know yet if we will be able to attend the reunion but I'm alive and well. If you locate Barbara Tull would you please send me her address? A would appreciate it and would love to get in touch with her.

Sincerely yours,

Karen (Wible) Fickes
216 Quinn Street
Naugatuck, CT 06770
Carole Zerbe (6/24/2008)
I retired last June 2007 from teaching at Wissahickon School district in Ambler, PA. However part of my retirement included eighteen years at the shore in a community called Linwood. It's about fifteen minutes from Ocean City, NJ. I taught Ed Michaels two daughters while there, which was interesting. I had bought a house years ago in Somers Point and kept it all these years. Did some renovations and decided to make it my retirement home. I do love being near the ocean. I am painting in watercolor and occasionally selling. Have always liked this medium so much. I'm currently in a project with a bunch of area artists painting on Bay Ave here. The theme is "Bridges, Boats & Things that Float". We did this last year with a different theme and I was lucky to sell both of my paintings. We'll have a show in late July through to September at a small gallery here. I also have some paintings in a Tuckerton gallery.
I have done some travel and a cruise this first year of retirement life.
Somers Point, NJ 08244
czpaints@verizon.net